conga-STDA4 SMARC 2.1 module features TI TDA4VM/DRA829J Jacinto 7 processor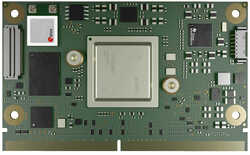 congatec will provide a Linux BSP for the Arm Cortex-A72 cores, as well as support for Wind River VxWorks, RTOS, and QNX for the Cortex-R5 real-time cores. The TDA4VM processor also happens to be found in the Beaglebone AI-64 SBC so besides support from congatec directly, there should be public resources to help with development too. Congatec also offers two SMARC carrier boards for evaluation and early-stage software development: conga-SMC1/SMARC-ARM and conga-SEVAL.
It's pretty hard to find differences between TDA4VM and DRA829J since the processors are virtually identical except for a few small differences as noted on TI forums...