Slimbook Titan, Kubuntu, RGB backlight keyboard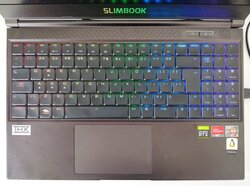 I figured that I only have two options. I could manually compile the controller module, load it into memory, and then manually issue brightness and pattern commands to the following path: /sys/class/leds/, specifically the qc71_laptop struct. The other option is to use the Slimbook RGB tool. Not happy with either, I must say.
In the end, I decided that perhaps, for now, the easiest option is to use the software provided by Slimbook. After all, the team maintains a dozen plus utilities for their different laptop models, and they are trying to give the user the best possible experience, considering the limitations. By and large, the keyboard tool isn't as ugly or ungainly as I've feared. It's quite elegant, in fact. So I think, we might call this a happy ending. More Titan adventures coming your way soon!