5 Best Free and Open Source Photo Geotagging Tools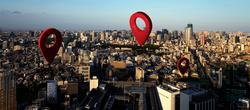 GPS is also popular among other individuals constantly on the move such as mountain bikers, snowmobilers, hikers, cross-country skiers. There are so many diverse uses of GPS ranging from keeping track of vulnerable members of society, finding pets that have collars with built-in GPS, or tracking equipment while traveling. Even footballers in training are monitored and tracked by football clubs with GPS.
Geotagging is the process of adding geographical identification metadata to various media such as a geotagged photograph or video, websites, SMS messages, QR Codes or RSS feeds and is a form of geospatial metadata.
This article picks the finest photo geotagging tools. All of the software featured is free and open source goodness. The chart below summarizes our findings.