Welcome Juan José González, TDF's new Web Technology Engineer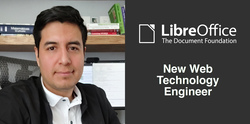 My name is Juan José and I am from México. I moved from my beautiful hometown to Guadalajara nearly thirteen years ago looking for a good job as a developer and I fell in love with the city. In Guadalajara I met my wife, my friends and many free software enthusiasts.
Since the first day, I realized that there were local communities around free software so I like to keep in contact with them, and contribute with technical talks about various topics.
I studied a masters degree in Computer Science, where I got interested in the semantic web and the automated reasoning discipline behind it. I've been working as a web developer for more than a decade now.
I am so happy that I found this position at The Document Foundation – I am determined to contribute as much as I can to improve our existing web sites and web apps that support the foundation's efforts.