GUADEC 2023 Conference Takes Place July 26-31 in Riga, Latvia, for GNOME 44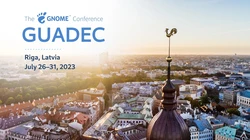 Just like last year's GUADEC 2022 conference, the GUADEC 2023 event will offer a hybrid model where attendees can join in person or online. If you're joining in person, you should know that the conference will take place in Latvia's capital, Riga, for the first time in Europe since 2019.
GUADEC is the place where GNOME users and developers from all over the world gather together to share knowledge and discuss the new features and changes of the next major release of the GNOME desktop environment, in this case for the GNOME 44 series, which launches in late March 2023.