Apple GPU drivers now in Asahi Linux (UPDATED)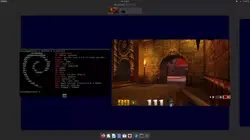 We're excited to announce our first Apple GPU driver release!
We've been working hard over the past two years to bring this new driver to everyone, and we're really proud to finally be here. This is still an alpha driver, but it's already good enough to run a smooth desktop experience and some games.
Read on to find out more about the state of things today, how to install it (it's an opt-in package), and how to report bugs!
Also: NVIDIA talks up RTX IO with GDeflate (used in DirectStorage 1.1) to speed up games
UPDATE
Bobby Borisov's coverage:
3 more links for this:
And yet 3 more:
Sourav Rudra now:
A couple more:
Arindam:
David Delony:
Late coevrage: