SuperTuxKart 1.4 Revs Up for Release with Visual Improvements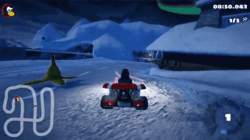 Yep, that revving you hear is the sound of a new release candidate.
The last few releases of SuperTuxKart have, it has to be said, spoiled us in terms of new karts, characters, tracks, features, game modes and more — the upcoming SuperTuxKart 1.4 release is no different!
A stack of visual changes are proffered in the latest builds. Collectable items are said to have a "more dynamic and polished way to interact with players", something you can (partially) see demoed in this gif...